---
Ecuador Seminar: Team Moves to High Camp on Chimborazo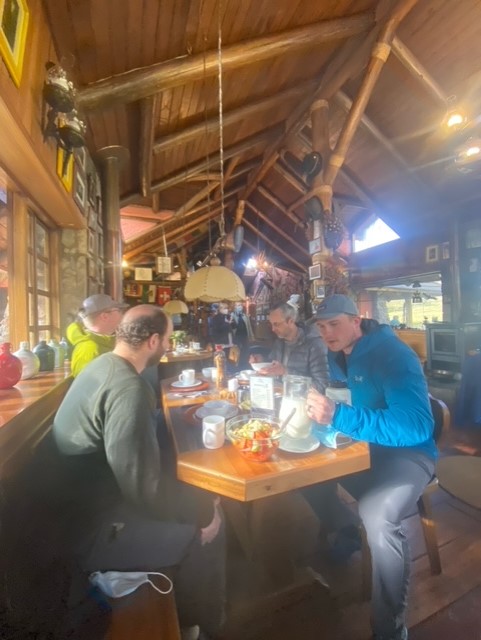 It was another breathless, warm morning on the Ecuadorian countryside. Our beautiful hacienda was situated perfectly in a giant valley which runs directly from our dining room window unabated for 7000' vertical feet straight to the summit.
Chimborazo, the farthest point from the center of the earth and closest to the sun, was mostly displaying her majesty as we sipped coffee and ate our eggs. As the morning wore on, she hid herself from view and we loaded the magic bus ready to take us to the Chimborazo trailhead. By 1:30 all our packs were packed, and it was off to high camp at 17,500 feet.
At this altitude nothing feels perfect, unzipping your trousers just to take a pee can leave you winded. But our seemingly invincible team has again handled things with grace under pressure and is doing well up here. Once again, the Ecuadorians have done it right, providing a giant dome tent for our lounging pleasure.
But don't get too comfy bloglandia, the alarm is set for a mere four hour from not. It is then we will have our final test?
The is rest well with a positive psych ! Wish us well!
RMI Guides Adam Knoff, Hannah Smith and Team
×
Sign Up For Ecuador 2022 Emails
{/exp:mailinglist:form}
---
More to Explore