Alpine Climbing - Little Switzerland
Spend nine days in some of the most beautiful mountains on the North American continent - the Alaska Range. Basing out of "Little Switzerland" we have the perfect alpine playground for training and climbing.
EXPEDITION HIGHLIGHTS
Fly in a ski plane to the beautiful Pika Glacier, in the heart of North America's highest mountains.
Become well versed in the skills of alpine climbing in the best classroom possible: the mountains of the Alaska Range.
Enjoy the lighter packs and ease of travel of alpine mountaineering.
Enjoy our exceptional 2 to 1 climber to guide ratio during the course, benefiting from the experience, expertise, and tutelage of RMI's renowned guides.
Put your new skills to test during the program as the team makes attempts on several summits.
Take part in an RMI adventure and see why we continue to set the standard in guiding excellence.
Light and fast is the mantra of the alpine mountaineer. Alpine climbing refers to a particular style of mountain climbing that involves a mixture of snow climbing, ice climbing, rock climbing, and glacier travel, where climbers generally single-carry their loads between camps, in a single push for the summit. RMI's Alaska Alpine Climbing program takes place in the ideally situated Little Switzerland climbing area in Denali National Park & Preserve. The incredible variety of terrain is ideally suited for learning alpine climbing skills, and offers numerous moderate and enjoyable climbs. Our alpine course has been designed to prepare you for guided ascents of Alpamayo, or Denali's Upper West RIb, or to enable you to lead your own adventures on other peaks.
RMI is proud to offer a 2 to 1 climber to guide ratio on this program.
Ice and rock climbing, route planning, belay and rappel skills, gear placement and multi pitch techniques are some of the skills introduced and practiced during the course. Our experienced guides offer extensive personal instruction through the course, from the teaching of fundamental climbing knots to instruction and guidance during the climbs. RMI Expeditions is committed to a safe, fun, and educational program and these goals are best achieved with a low student to guide ratio. While less expensive instructional programs in Alaska exist, none offer the instruction, quality, and experience of RMI.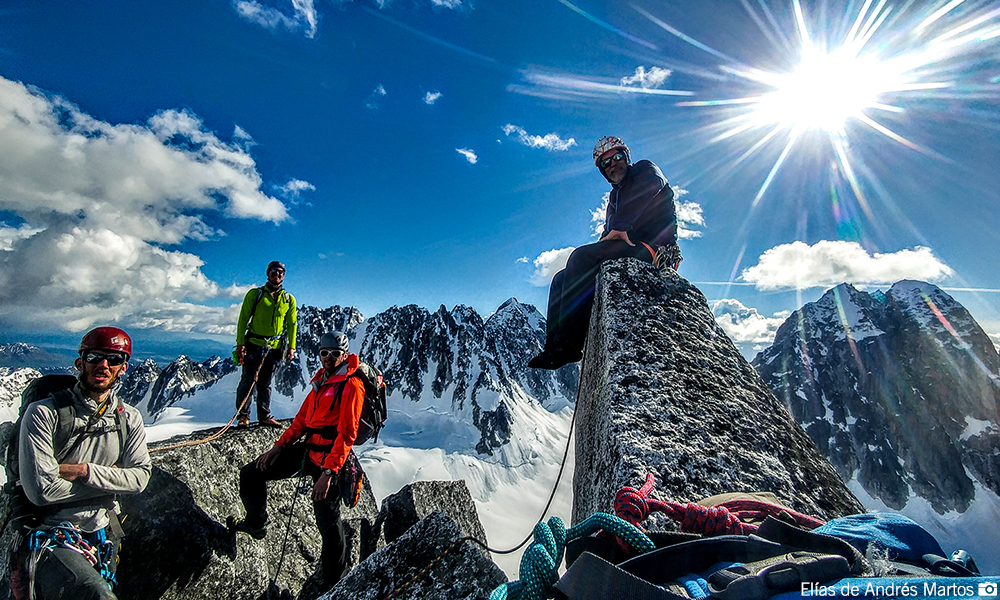 THE RMI DIFFERENCE
Rainier Mountaineering, Inc. was established in 1969 and is one of America's oldest and most-trusted guide services. We are the largest guide service on Mt. Rainier and Denali and a leader in guiding climbs and treks around the globe. Our experienced guides are some of the best in the world, more than 35 of whom have reached the summit of Mt. Everest, some multiple times. Our years of leading mountain adventures give us the experience and knowledge necessary to create the best possible trips. We work hard to live up to our reputation as an industry leader.
SAFETY
With over 35 years of experience of guiding on Denali alone, RMI's legacy of instruction, safety, and success in the Alaska Range is unmatched. Safety has always been RMI's top priority and we strive to create the safest mountain experience possible. Our experienced team of guides focuses on leading a fun and successful program without compromising safety. Our climber-to-guide ratio is 2:1 and provides an unusual degree of personal service from RMI's guides and increases our margin of oversight and safety on the mountain.
Our program is fully equipped with comprehensive medical kits and communication equipment. Our guides and staff are highly trained in emergency mountain medicine and work to maintain our strict standards of safety, keeping close dialogue with participants throughout the program. When problems arise on the mountain, away from medical facilities, the level of training and experience RMI's guides have makes them some of the most sought after guides in the profession.
As you prepare for your upcoming adventure please feel free to contact our office and speak directly to one of our experienced guides regarding equipment, conditioning, the route, or any other questions you may have about our programs. We are available Monday thru Friday 8:30 a.m. to 4:00 p.m. at (888) 89-CLIMB or info@rmiguides.com.
---
Authorized Concessioner
RMI Expeditions is an authorized concessioner of Denali National Park and Preserve.
Climate Change
All of our climbs in Denali National Park and Preserve are 100% carbon neutral. We have partnered with Offsetters, Canada's leading carbon management solutions provider, to purchase offsets for our greenhouse gas emissions. Their projects are verified and validated by third parties to ensure that the emission reductions are real, additional, and permanent, so we know that our contribution is making a real difference.
By supporting this project, we prevent the equivalent amount of greenhouse gas emissions that were generated by our operations from being emitted somewhere else. These offsets allow us to achieve our goal of sustainability and further promote responsible environmental practices.
Climber Reviews
Upcoming Climbs

Please call our offices at 1-888-892-5462 to inquire about availability.

Show All

Price

$6300*

Deposit

$1500

Duration

11 days

Difficulty

Type

Skills

*Price includes round-trip transfer to Talkeetna, two nights lodging in Talkeetna, bush pilot, & Park Entrance Fee.
Table of Contents
Print all Trip Details
Print this Page
Day 1
TRAVEL
1:30 p.m.: Meet the guides at Anchorage International Airport (Domestic Terminal), carousel 1 in Alaska Airlines baggage claim.
Shuttle transportation to Talkeetna is included in the program. The shuttle leaves at 2:00 p.m. and takes three hours to arrive in Talkeetna. The group will stop at a grocery store in Wasilla, for the opportunity to purchase any fresh food you'd like to bring on the mountain. The team will arrive in Talkeetna at approximately 5:00 p.m. Overnight in Talkeetna.
Day 2
PRE-TRIP PREPARATION AND TRAINING
7:00 a.m.: Team Breakfast Meeting
After a breakfast meeting we begin our training at the K2 Aviation hangar where the team will go through extensive personal equipment checks. Final recommendations and suggestions concerning gear will be made at that time. The team will plan meals and ready group food and equipment for the glacier flight. There will be an introduction to safety practices, including use of helmets, harnesses, and avalanche transceivers. Instruction regarding Leave No Trace practices and environmental considerations will be made as well. After all is made ready we begin shuttling members into the Pika Glacier in the heart of Little Switzerland, weather permitting. This spectacular scenic flight requires approximately 35 minutes, one way. Once at Little Switzerland Base Camp we build a mountain camp and kitchen and begin our alpine skills training by learning and reviewing knots, hitches and basic rope skills.
Day 3
TRAINING
At Little Switzerland Base Camp we review the foundational glacier travel skills that allow travel and access to more varied terrain. Skills reviewed on this day include: knots, harness, carabiner and avalanche transceiver use, proper use of the ice axe for balance and self and team arrest, cramponing on moderate terrain, and the basics of roped glacier travel. We spend the afternoon learning how to construct a variety of anchors for use in belaying, rappelling, crevasse rescue and rock rescue.
Evening discussions take place throughout the seminar and cover a variety of mountaineering topics such as: mountain medicine and wellness, weather, route finding and navigation, route planning, self care and the art of climbing efficiently.
Day 4
FIRST SUMMIT DAY
A moderate climbing objective is picked by the guides for the first summit attempt of the trip. We use the day of climbing to learn and discuss such skills as hazard recognition and management, route finding, terrain and running belays, and short rope techniques. Our goal is to apply these techniques on the route, have an adventurous and safe climb, and be back in camp by early afternoon. During the afternoon hours we will work on belaying skills; reviewing the basics and learning new methods for belaying a following or leading climber in an alpine setting.
Day 5
ALPINE ICE CLIMBING
Today we work on movement skills, gear placement, belaying, rappelling, and multi pitch climbing techniques needed for longer alpine ice routes.
Day 6
ALPINE ROCK CLIMBING
We spend time on the high-quality granite found near Base Camp and work on movement skills, gear placement, and anchor construction. The evening is devoted to route planning for the next day's climbing objective.
Day 7
SECOND SUMMIT DAY
A moderate climbing objective is picked by the guides for the second summit attempt of the trip. Our goal on this full day of climbing is to safely apply the skills we have learned to date.
Day 8
TRAINING
In the morning the crevasses near camp will serve as our training ground for a variety of self and team rescue scenarios. In the afternoon we review skills and prepare for the next day's student led climbs.
Day 9
PARTICIPANT-LED CLIMBS
With route plans, and our rock and ice gear in hand we head out for a day of climbing with the students taking the lead. Everyone will get a chance to be on the front of the rope, navigating through the crevasse fields, kicking steps up the snow gullies, determining the best climbing line and placing the protection.
Day 10
TRAINING
Our last morning on the glacier is comprised of packing camp and moving back to the flight staging area. We fly from the Pika Glacier to Talkeetna for a celebratory dinner. Overnight in Talkeetna.
Day 11
TRAVEL
Morning transfer to Anchorage for afternoon flights. (Note: Return flights should be made to depart Anchorage one week after program end day to accommodate weather delays.)
Print all Trip Details
Print this Page
Travel Consultant
RMI has partnered with Erin Rountree to provide comprehensive travel support. We have been working with Erin for many years. As an independent agent of the Travel Society, she has booked countless miles for adventure travelers across the globe and is extremely knowledgeable about the travel needs of our programs. Please call (208) 788-2870 or send email to etravel@cox.net.
Travel Insurance
We strongly encourage everyone to purchase travel insurance which can cover trip cancellation, interruption, delay, baggage loss or delay, medical expenses, medical evacuation, and more. Travel insurance offers the best possible protection in the event of a sudden, unexpected illness or injury prior to or while traveling. You can purchase travel insurance at any time prior to the trip departure. Should you need to cancel from a program, Trip Insurance will refund you for any non-refundable cancellations fees when cancelling for a covered reason.
There are several things to note when purchasing trip insurance.
Cancellation Insurance is included in the standard Trip Insurance policy if you are injured, or have a medical or family emergency prior to or while traveling. Should you need to cancel your program, Trip Insurance will refund you for any non-refundable cancellations fees when cancelling for a covered reason. Most travel insurance companies provide an option to include coverage that allows you to "Cancel for Any Reason", but the initial policy must be purchased within 15 days of placing your deposit for the program.
In order to cover your trip with RMI Expeditions you may need to include options such as an "Adventure or Sports" upgrade. Not all travel insurance will cover mountaineering, climbing, skiing or trekking adventures. Some will not cover due to gear used (crampons, ice axe), others will not cover above a certain elevation and/or region of the world. Check your policy carefully to make sure your activity is covered.
Purchasing Travel insurance is also dependent on your state of residence. If one company doesn't offer coverage for you because you live in Washington, another company might.
Ripcord Rescue Travel Insurance is travel insurance designed for adventurers, including the best evacuation and rescue services available.
Benefits are tailored for adventurers and include:
Rescue and evacuation from the point of illness or emergency to your home hospital of choice.
Trip cancellation/interruption, primary medical expense coverage, sporting goods, baggage loss, emergency dental, Accidental Death & Dismemberment (AD&D) and more.
Completely integrated one-stop program with a single contact for emergency services to travel assistance and insurance claims.
24/7 access to paramedics, nurses and military veterans.
Security extraction in case of unexpected dangerous and chaotic events.
Cancel For Any Reason (CFAR) options and pre-existing condition waiver within 14 days of your initial trip deposit.
Ripcord Rescue Travel Insurance is powered by Redpoint Resolutions, a medical and travel security risk company. Their team is comprised of special operations veterans, paramedics, Stanford Medicine affiliated physicians, former intelligence officers, insurance actuaries and global security experts with dozens of years of experience in theaters around the world. The Redpoint network covers the globe, making them uniquely equipped to provide elite rescue travel insurance – in every sense of the word. Whether it's reimbursing you for a cancelled trip, paying your travel medical bills or evacuating you home in an emergency, Ripcord takes the worry out of your travel.
Getting to Talkeetna
FLIGHTS TO ALASKA
Climbers need to arrive at Anchorage International Airport (ANC) by 1:00 pm on Day 1 of the program. The group will meet at 1:30 p.m., Alaska Airlines domestic baggage claim, carousel #1.
If your flight cannot arrive in Anchorage before 1:00 p.m. it will be necessary to arrive a day earlier and go to the airport to meet the team.
Airfare should be booked to depart Anchorage one week after the program's end date. When you return to Anchorage, you can reschedule your return flight at the ticket counter or over the phone. Depending on the airline, a change of date penalty is usually charged at this time. We have found scheduling a future date with a flexible return usually works better than an open-ended ticket or missing an early return date.
SHUTTLE TO TALKEETNA
We will arrange a transfer from Anchorage to Talkeetna at 2:00 p.m. the day your program begins. Please arrive in Anchorage no later than 1:00 p.m. Talkeetna is a three-hour drive from Anchorage. If you are traveling to Talkeetna on your own, please let RMI know in advance that you will not require transportation.
Weather
Denali's weather forecast is updated through the National Weather Service
Tipping
Our guides work hard to ensure your well-being and success on the mountain. If you have a positive experience, gratuities are an excellent way to show your appreciation. Amounts are at your discretion and should be based on your level of enjoyment. Tips for excellent service normally average 10 – 15% of the cost of the program. If you would rather not bring the guide gratuity with you on the trip, you can send a check or call the RMI office to pay with a credit card upon your return.
Resources
Mountaineering is replete with literary accounts of high adventure in Alaska. For aspiring Denali climbers, certain historical narratives, as well as how-to guide books, can prove both entertaining and educational, significantly adding to ones enjoyment of the expedition.
The list below represents some personal favorites, from over three decades of guiding in Alaska. I particularly enjoy the story of the first winter ascent: Minus 148 degrees!
Whether you are challenging the West Buttress, learning crevasse rescue on the lower Kahiltna Glacier, or rock climbing in Little Switzerland, these titles will greatly enhance your experience and appreciation of Alaska!
- Joe Horiskey
Bass, D., Wells, F., Ridgeway, R. Seven Summits 1986
Beckey, Fred Mount McKinley: Icy Crown of North America 1993
Bezruhka, Stephen Altitude Illness - Prevention & Treatment 2001
Cole, Terence The Sourdough Expedition: Stories of the Pioneer Alaskans Who Climbed Mount McKinley in l910 1985
Davidson, Art Minus 148: The Winter Ascent of Mount McKinley 1986
Houston, Charles Going Higher: The Story of Man and Altitude 1987
Mason, Gen Minus Three 1970
Michener, James A. Alaska 1988
Moore, Terris Mount McKinley: The Pioneer Climbs 1981
Roberts, David The Mountain of My Fear 1968
Randall, Francis Denali Diary: Letters from McKinley 1987
Seattle Mountaineers The Freedom of the Hills 2017
Selters, Andy Glacier Travel & Crevasse Rescue 2009 (second printing)
Sherwonit, Bill To The Top of Denali 2013 (third edition)
Sherwonit, Bill Denali, A Literary Anthology 2000
Stuck, Hudson The Ascent of Denali 1914
Washburn, B., Roberts, D. Mount McKinley - The Conquest of Denali 1991
Print all Trip Details
Print this Page
Qualifications
This trip is open to individuals in excellent physical condition with previous ice and rock climbing experience. Technical ice: Level 1, minimum (Grade 3-4). Rock climbing: practical experience; comfortable following Class 5.6, minimum. Additionally, completion of a general mountaineering course and familiarity with roped glacier travel, cramponing, and ice axe arrest is required.
Qualifying Programs
Recommended experiences prior to the Alpine Climbing - Little Switzerland include:
Get In The Best Shape Of Your Life
And Then Go
Climb A Mountain

Create A Fitness And Training Program
Physical Fitness Training
Mountaineering requires a high degree of physical stamina and mental toughness. Even for the healthiest and fittest individuals, climbing mountains qualifies as an extremely challenging endeavor.
Start immediately. Start a rigorous fitness and training program now with the goal of arriving in top physical condition and confident in your skills.
Be intentional. Focus on gaining the necessary strength, stamina and skills to meet the physical and technical demands of the climb.
Be sport-specific. The best fitness and training program mimics the physical and technical demands of your climbing objective. The closer you get to your program date, the more your training should resemble the climbing.
For the Alpine Climbing - Little Switzerland program, you are preparing for:
Glacier travel with a 25-40 lb load
12+ hour summit days
Mountaineering techniques requiring core strength and flexibility
Nothing ensures a personally successful adventure like your level of fitness and training. Bottom line: Plan on being in the best shape of your life and ready for a very challenging adventure!
Please refer to our Resources for Mountaineering Fitness and Training for detailed fitness and training information.
Acclimatization
No acclimatization is necessary for this program.
Print all Trip Details
Print this Page
What You'll Need
A list of required personal equipment accompanies every RMI program, and the thought process behind each item is much greater than simply "preparing for the worst and hoping for the best." The list for your program takes into account factors such as: seasonality, route conditions, weather, elevation and more. As such, this list is framed within the broadest of contexts and is dynamic by its very nature. Therefore, certain variables (additions and/or subtractions) are inherent within such an all-encompassing list. We make every effort to recommend only top of the line clothing and technical gear and it is never our intention for you to buy or rent unnecessary gear.
The Guide Pick is an example of the listed item, giving you an idea of the material and specifications of the item. This exact item does not need to be purchased or used; however, any item you choose must have similar characteristics and performance abilities to the Guide Pick.
RMI Guides concur on the potential necessity of every item, thus every item on the list is required at gear check. However, guides may also have suggestions derived from their experience, some of which will vary from a given list. The guides' recommendation whether to bring along or leave behind certain item(s) comes during the gear check, when the team first meets. Occasionally this recommendation comes at the expense of having previously purchased an item. If a guide presents the option of leaving behind certain item(s) on the list of required equipment, it is for a reason. Their recommendation may be related to the weather, route conditions, freezing level, perceived strength of the party, or desired pack weight.
Ultimately, there will never be a consensus for a "perfect" equipment list for an ascent. It does not exist because of the multitude of variables faced by climbers throughout the climb. Please follow this equipment list closely so that you will arrive for the gear check with all the required items. Keep in mind the list is not black and white, fine tuning will occur once you meet with your guide. Have a great climb!
---
Most of the required equipment is available for rent or purchase from our affiliate Whittaker Mountaineering. RMI climbers receive a 10% discount on new clothing and equipment items ordered from Whittaker Mountaineering when they use code RMI2019 at checkout. This offer excludes sale items, rentals, meal packages, and Feathered Friends.
Equipment List
DUFFEL BAG

A 100+ liter bag is used on the mountain to transport gear in your sled. The duffel bag does not need to be waterproof.
BACKPACK

A 35+ liter pack is the recommended size for this climb.
SLEEPING BAG

A bag rated to 0° F. Either goose down or synthetic, with ample room for movement. Most guides prefer down, because it is lightweight and compactable. A waterproof bag is superb, but not mandatory.
The temperature rating system for sleeping bags is arbitrary and is not a guarantee of warmth. Base your selection on how well you do in the cold. If you tend to sleep on the cold side, choose a bag rated on the lower end of the temperature range.
COMPRESSION STUFF SACK FOR SLEEPING BAG
SLEEPING PAD - INFLATABLE

A full-length inflatable pad.
SLEEPING PAD - CLOSED FOAM

A second full-length or 3/4 length closed cell foam pad. This pad is used in combination with the first sleeping pad.
ICE TOOL

A technical ice tool will be needed.
ICE HAMMER

A technical ice climbing hammer of 50 - 55 cm will be needed on steep terrain.
ICE TOOL TETHER

An elastic tether or "umbilical cord."
CLIMBING HARNESS

We recommend a comfortable, adjustable alpine climbing harness. Removable, drop seat or adjustable leg loops are convenient for managing your clothing layers over the course of the climb and facilitate going to the bathroom.
1 TRIPLE-ACTION LOCKING CARABINER(S)

Used for clipping into the climbing rope.
2 LOCKING CARABINER(S)

Used for clipping into anchors, etc.
6 NON-LOCKING CARABINER(S)

Used for pack ditch loop, etc.
HELMET

A UIAA (Union Internationale des Associations d'Alpinisme) or CE (European Committee for Standardization) certified climbing helmet. Bicycle or ski helmets are designed for a different type of impact and will not substitute as a climbing helmet.
CRAMPONS

The 12-point automatic crampons designed for technical mountaineering are ideal. We highly recommend anti-bot plates to prevent snow from balling up underfoot. Rigid frame crampons designed for technical ice climbing also suitable.
AVALANCHE TRANSCEIVER

A digital transceiver is preferred; analog will work as well. If you rent a transceiver, one set of new batteries will be provided.
TREKKING POLES

Lightweight and collapsible poles are preferred. Larger baskets work well with deep snow. Ski poles will also work.
RESCUE PULLEY (OPTIONAL)

Reasonably lightweight.
BELAY / RAPPEL DEVICE

A plate-style belay/rappel device.
Sewn nylon sling - 120 cm

"double-length runner".
24 ' PERLON CORD

6 mm cordelette in one continuous length.
24 ' PERLON CORD

7 mm cordelette in one continuous length.
SNOWSHOES

Select a short to medium length model of snowshoe. The 22" model and the optional heel lift work well for most climbers. Team members are more often 'drafting' as opposed to actually breaking trail, so it is not necessary to have a longer pair. The snowshoes should have an attached claw or crampon for better purchase. Miles of roped glacier travel will be logged wearing snowshoes. It is recommended to spend some time walking in them prior to the trip.
WARM HAT

Wool or synthetic. It should provide warmth but also be thin enough to fit underneath a climbing helmet.
BUFF / NECK GAITER / BALACLAVA

One item for face protection is required. Our primary recommendation is the Buff. A neck gaiter or balaclava is also acceptable.

GLACIER GLASSES

You will need protective sunglasses, either dark-lensed with side shields or full wrap-around frames. Almost all sunglasses block UV-A, UV-B and infrared rays adequately. Pay attention to the visible light transmission. The darkest lenses (glacier glasses) only allow approx. 6% visible light to get through, while lighter lenses (driving glasses) let in as much as 20+ %. A good rule of thumb is that if you can see the wearer's pupils through the lenses, they are too light for sun protection at altitude.
GOGGLES

Amber or rose-tinted goggles for adverse weather. On windy days, climbers, especially contact lens wearers, may find photochromatic lenses the most versatile in a variety of light conditions.
HEADLAMP IS NOT REQUIRED

Headlamp is recommended only if your Alaska program is taking place the first two weeks of May.
Each glove layer is worn separately as conditions change during the climb.
LIGHT WEIGHT GLOVE

One pair of fleece, soft-shell or wind-stopper gloves.
MEDIUM WEIGHT GLOVE(S)

Wind/water resistant, insulated mountain gloves.
HEAVY WEIGHT GLOVE

Wind/water resistant, insulated gloves. These also serve as emergency back-ups if you drop or lose a glove.
We recommend a minimum of five upper body layers, all of which can be used in conjunction with each other. Two of these should be insulating layers, one light and one medium, that fit well together. Today there are many different layering systems to choose from, including fleece, soft-shell, down and synthetic options.
LIGHT TO MEDIUM WEIGHT BASELAYER

Long-sleeve wool or synthetic top. Quarter zip styles will allow for better temperature regulation. We recommend light colors, which best reflect the intense sun on hot days.
INSULATING LAYER - LIGHTWEIGHT
DOWN OR SYNTHETIC INSULATED JACKET

A hooded down or synthetic jacket.
RAIN JACKET (HARD SHELL)

A jacket made of rain-proof material with an attached hood. We recommend a thinner lightweight jacket rather than a heavier insulated jacket.
DOWN PARKA WITH ATTACHED HOOD

This item becomes of highest importance when we are faced with poor weather. This should be an expedition-style parka. The parka is worn primarily in camp, at rest breaks, and on summit day (when it is of crucial importance). When sizing a parka, allow for several layers to be worn underneath; buy it large. The parka must have an insulated hood.
HIKING SHIRT

Lightweight, synthetic shirt with either long or short sleeves. Long sleeves and hoods are preferred for sun/bug protection.
SPORTS BRA

We recommend a moisture-wicking, active-wear bra.
We recommend a system of four layers, all of which can be used in conjunction with each other. Products which combine several layers into one garment, such as traditional ski pants, don't work well as they don't offer the versatility of a layering system.
1 - 3 UNDERWEAR

Non-cotton briefs or boxers.
LIGHT TO MEDIUM WEIGHT BASELAYER

Synthetic or wool.
CLIMBING PANT

Soft-shell climbing pants offer a wide range of versatility. You can wear them in combination with the base layer on colder days, or alone on warmer days.
RAIN PANT (HARD SHELL)

A waterproof pant with 3/4 side zippers (sometimes called 7/8 or full side zips) are required for facilitating quick clothing adjustments over boots and crampons.
SYNTHETIC INSULATED PANT (OPTIONAL)

A synthetic primaloft pant.
MOUNTAINEERING BOOTS

An insulated, rigid mountaineering single boot is recommended. The new designs with an integrated gaiter are the most suitable for this terrain.
BOOTIES

Goose down or synthetic fill. Booties can be worn inside of the overboots while walking around camp, which allows an opportunity to dry out inner boots.
ROCK SHOE

Comfortably sized for all day wearing (even with thin socks) rock climbing shoes are the best option.
GAITERS

We recommend a knee-length pair of gaiters, large enough to fit over your mountaineering boots. This will protect you from catching your crampon spikes on loose clothing.
4 PAIR OF SOCKS

Either wool or synthetic. Whatever sock combination you are accustomed to wearing during your training or previous adventures (whether single medium weight socks, a medium weight with a liner sock, two medium weight socks together, etc.), should work just fine for this climb.
SUNSCREEN

We recommend small tubes of SPF 15 or higher, which can be carried in pockets for easy access and to prevent freezing.
LIP BALM

We recommend SPF 15 or higher.
MEALS

See the Food tab for suggestions and quantities.

2 - 3 WATER BOTTLES

Hard-sided, screw-top, one-liter water bottles with wide mouths are required. Plastics made with high post-consumer recycled content and BPA-Free are recommended.
2 - 3 INSULATED WATER BOTTLE COVERS

These help prevent freezing. It should completely cover the bottle.
3 GARBAGE BAGS (LARGE)

We recommend lining your backpack with garbage bags to keep items in your backpack completely dry.



HAND SANITIZER(S)

Personal size (2 oz.) bottle.
1 ROLL TOILET PAPER

We recommend packable, biodegradable, personal size rolls.
PEE BOTTLE & PEE FUNNEL (FOR WOMEN)

Pee bottle should be 1 to 1 1/2 quart size.
ASPRIN / IBUPROFEN / TYLENOL
PEPTO-BISMOL (STOMACH RELIEF)
SMALL ROLL OF ADHESIVE TAPE
We recommend you speak with your physician about which medications make sense to have for remote international travel and/or high altitude climbing. We suggest the following:
ANTIBIOTICS

Broad spectrum antibiotics for Traveler's Diarrhea, urinary tract infection, pneumonia, etc.
Ciprofloxacin (500mg tablets), Metronidazole, Azithromycin (250mg tablets).
ACETAZOLAMIDE

For prevention or treatment of Acute Mountain Sickness.
Acetazolamide (125mg tablets).
BOWL

Plastics made with high post-consumer recycled content are recommended.
INSULATED MUG

Stainless steel or plastics made with high post-consumer recycled content are recommended.
2 SPOON or SPORK

Plastics made with high post-consumer recycled content are recommended.

READING MATERIAL / JOURNAL
MOSQUITO REPELLENT

For Talkeetna.
Purchase travel insurance.
Purchase airplane tickets.
Reserve rental equipment.
Be in the Best Shape of Your Life!
---
Provided Equipment
RMI provides the following equipment for your program: tents, stoves, group cooking equipment, fuel, shovels, climbing ropes, climbing anchors, and avalanche probes.
Every guide on your climb will carry rescue equipment and a first aid kit. Each climb has two-way radios and a satellite phone for emergency contact.
Each member will have a sled for use during the program. Sleds aid in transporting loads between camps on the lower mountain.
Print all Trip Details
Print this Page
Meals
On the Alpine Climbing - Little Switzerland program you will need 9 mountain lunches. All of your mountain lunch items should weigh 7+ lb.
Breakfast and dinner meals on the mountain are included in your program cost. You are responsible for all meals while we are off the mountain.
MOUNTAIN LUNCHES
Mountain lunches are eaten during short breaks throughout the day. We continually snack to keep our energy levels up while we climb - lunch begins just after breakfast and ends just before dinner! Avoid packing any items that require preparation or hot water.
The importance of having foods that are genuinely enjoyed cannot be overstated. Eating properly is the key to maintaining strength while in the mountains. In order to combat the loss of appetite at altitude we aim to have a variety of foods that stimulate the whole palate, from sweet to sour to salty.
Recommended mountain lunch items: bagels, tortillas, crackers (Wheat Thins, Triscuits), hummus, Pringles, corn nuts, smoked almonds, roasted cashews, GORP mix (peanuts, M&M's, sunflowers seeds, raisins, etc), smoked salmon, fresh veggies (carrots), salami, pepperoni, cheese (pepper jack, Swiss, cheddar), jerky, candy (sweet and sour varieties), chocolate bars, hard candies, energy bars (Cliff, Luna), dried fruits (apricots, pineapple, pear), and drink mixes (Gatorade/Kool-Aid).
Perishable food items may be purchased at a grocery store en-route to Talkeetna; you should have the bulk of lunch items already purchased and packed.
BREAKFAST
Breakfasts consist of fresh food (bagels, cream cheese), bacon and eggs, instant oatmeal, instant grits, cold cereal (granola), breakfast bars, and hot drinks.
DINNER
Nine man-days of food are carried on the mountain, which can be stretched in the event of bad weather.
The dinner menu is a combination of fresh food (vegetables, tortillas, cheese), retort entrees (fully cooked meals packaged in sealed containers and heated in hot water), freeze-dried entrees (Mountain House or Richmoor Natural High), and packaged main course items (ramen, Lipton Rice or Noodles, macaroni and cheese). Various hot drinks (coffee, tea, cocoa, and cider) and dessert are also provided.
Every attempt is made to assure a variety and adequate quantity.
Print all Trip Details
Print this Page
Payments
Deposit Payments: A deposit payment of $1,500 per person secures your reservation. Deposit payments $2,500 or less may be made via MasterCard, Visa, e-check, check, or wire transfer. Deposit payments over $2,500 must be made via e-check, check, or wire transfer.
Balance Payments: The balance payment is due 90 days prior to the start of your program. We will send a payment reminder approximately three weeks before your payment due date. If your balance payment is not received within 90 days prior to the start of your program, your reservation will be cancelled and all fees forfeited. Trips departing within 90 days must be paid in full at the time of reservation. Please note that balance payments may be made via e-check, check, or wire transfer only.
Cancellation
$750 of the $1,500 per person deposit is non-refundable. Written notification is required for all cancellations.
Once RMI receives written notification of cancellation, the following apply:
If you cancel 90 or more days before the start of your program, the program fees will be refunded less $750 per person.
If you cancel less than 90 days before the start of your program, no refunds will be issued.
Unfortunately, due to the time-sensitive nature of our business, and the difficulty in re-booking a trip close to departure, we cannot make exceptions to this policy.
Cancellation Insurance
We strongly suggest that everyone purchase travel insurance. Please see our Travel Page for details.
Change of Date
Date changes are subject to availability and apply only to the current climbing season. Date changes may be requested at anytime up to 60 days prior to your departure date for a $200 fee per person. There are no date changes allowed less than 60 days before departure.
Land Cost
INCLUDED
RMI Leadership
Ground transportation between Anchorage and Talkeetna
Hotel accommodations in Talkeetna for one night at the start of the trip and one night at the end of the trip*
Denali National Park Entrance Fee
Breakfast and dinner while on the mountain
Group equipment (tents, ropes, stoves, fuel, sleds, etc.)
Bush pilot service between Talkeetna and Kahiltna Base Camp as stated in the itinerary
NOT INCLUDED
Airfare to Anchorage International Airport (ANC)
Hotel accommodations in Talkeetna not included above
Meals while not on the mountain
Mountain Lunches during the climb
Customary guide gratuities
Bush pilot fees if returning from the mountain early
* Accommodations are based on double occupancy.
Risk Management
Managing risk is RMI's number one priority. Our guides manage significant hazards inherent in mountaineering such as avalanches, ice fall, rock fall, inclement weather, and high winds, but they cannot eliminate them.
Please clearly understand that mountaineering is inherently a hazardous sport. You are choosing to engage in an activity in which participants have been injured and killed. While those accidents are indeed infrequent, they may occur at any time and be out of our control. We ask that participants acknowledge the risk and hazards of mountaineering, and make their own choices about whether or not to engage in this activity.
Climber Responsibilities
Mountaineering is both an individual challenge and a team endeavor. Some of the responsibility for the team is carried by the individual climbers. For this reason, we ask that each participant:
is physically and mentally fit, properly attired and equipped, and continues to self assess throughout the program to ensure as safe a climb as possible. If a climber's own physical fitness limits his or her ability to safely continue upward, that can have a negative impact on the summit experience or opportunity of other climb participants.
honestly and accurately describe themselves, in terms of fitness, health and skills, and their equipment to their guides, and that they adhere to the advice of their professional mountain guide.
If the Participant decides to leave a trip at any time after the start of the trip and prior to its conclusion, he or she will not be entitled to a refund.
RMI reserves the right to dismiss the Participant from a trip or to send the Participant to a lower altitude at any time if RMI determines, in its sole discretion, that the Participant is not physically, technically, or psychologically prepared for or capable of participating in the program.
Age-Appropriate Guidelines & Restrictions
In the interest of the safety and well-being of all participants, RMI adheres to the following age-appropriate guidelines:
Ages 15 & under: No participants age 15 & under
Ages 16 & 17: Accompanied by parent or legal guardian
Ages 18 & above: No restrictions
An individual's birthday must precede the departure date of the program. For example: a 15 year old who turns 16 on July 1 may participate on a program beginning July 2.
Under-aged participants on Private Climb or Group Climb programs are assessed on an individual basis.
Both the parent or legal guardian and the Participant must sign all forms. A minor climber must be accompanied by their parent/legal guardian throughout the entirety of the program. If either climber must descend at any time during the program, both climbers must descend together.
Summit Attempt
RMI cannot guarantee that you will reach the summit. Weather, route conditions, your own abilities, or the abilities of other climbers may create circumstances that make an ascent unsafe, and you or your entire party may have to turn around without reaching the summit. Failure to reach the summit due to a person's own lack of fitness or to any of the events associated with mountaineering (such as weather, route, avalanche hazard, team dynamics, etc.), are not Rainier Mountaineering, Inc.'s responsibility and will not result in refund or reschedule.
General Policies
RMI's program schedule and itineraries are subject to change or adjustment based on a number of factors. These include, but are not limited to, route conditions, weather, terrain, or other environmental factors, currency fluctuations, changes in outfitting costs, government instability, and many other factors. RMI has complete discretion to change plans to accommodate any of these or other factors, including but not limited to increases in program fees, changes to program schedule or itinerary, and changes to guides or staff, as necessary for the proper and safe conduct of the program.
We reserve the right to cancel any program due to inadequate signups, weather or route conditions, or other environmental factors, government instability, unpredictable social, political or military conditions in countries that we travel. In such a case, you will receive a full refund of program fees paid to RMI, less any non-refundable payments that have been paid to our outfitters prior to the cancellation of the trip. When a trip is cancelled, RMI cannot be responsible for any additional expenses incurred in preparing for the program (i.e., airline tickets, equipment purchase or rental, hotel reservations).
The Participant understands and agrees that RMI assumes no responsibility or liability in connection with any travel and hospitality service provided to the Participant by others in connection with the trip, including but not limited to the services provided by airlines, hotels, and motor vehicle operators, and that RMI is not responsible for any act, error, omission, or any injury, loss, accident, delay, irregularity, or danger by a supplier of travel or hospitality services to the Participant in connection with the RMI program.